Australia reels from record heatwave, fires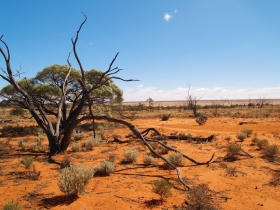 Yesterday Australia recorded its highest average temperature yet: 40.33 degrees Celsius (104.59 Fahrenheit). The nation has been sweltering under an unprecedented summer heatwave that has spawned wildfires across the nation, including on the island of Tasmania where over 100 houses were engulfed over the weekend. Temperatures are finally falling slightly today, providing a short reprieve before they are expected to rise again this weekend.
For six days, from January 2nd-7th, the nation's average high has been above 39 degrees Celsius (102 degrees Fahrenheit). Noted meteorologist, Jeff Masters, writes at his blog that this is "the first time that has happened since record keeping began in 1910 [in Australia]."
The extreme heat has prompted Australia Bureau of Meteorology's to add a new color to their maps—dark purple—to mark temperatures between 50 and 54 degrees Celsius (122-129.2 degrees Fahrenheit).
The Prime Minister of Australia, Julia Gillard, warned: "Whilst you would not put any one event down to climate change, weather doesn't work like that, we do know over time that as a result of climate change we are going to see more extreme weather events and conditions."
Gillard's comments were buoyed—and even strengthened—by experts.
"The current heatwave—in terms of its duration, its intensity and its extent—is now unprecedented in our records," David Jones with the Bureau of Meteorology told The Age. "Clearly, the climate system is responding to the background warming trend. Everything that happens in the climate system now is taking place on a planet which is a degree hotter than it used to be."